David Iwi tops Blitz
Thursday 4 June, 2009
June's Hendon Blitz Tournament was won by Hendon's David Iwi. Michael Bennett came 2nd, with Jonathan Landau taking home the prize for 'Hendon's top player'.
---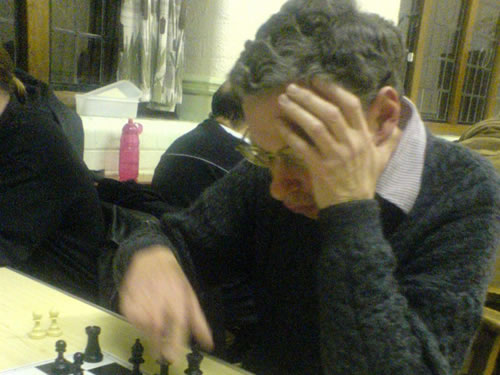 Hendon club members once again took the top places in June's closely contested Blitz Tournament.
David Iwi (pictured) took a well-deserved first place with 5/6, followed by Michael Bennett on 4½/6 – both David and Michael went through unbeaten. Jonathan Landau took home the prize for 'Hendon's best player'. Blitz regulars Steven Coles and Shane McCabe also tied for 3rd place.
Top standings:
1: David Iwi (5/6) Prize: £15
2: Michael Bennett (4½/6) Prize: £10
3-5: Jonathan Landau, Steven Coles, Shane McCabe (4/6) Prize: £5 to Jonathan for highest Hendon player
6-7: Ivan Valigurskyy, Salvatore Pepe (3½/6)
8-10: Ivan Kiskin, Graeme Lennard, Petr Limonov (3/6)
11: Ray Pliskin (2½/6)
12-14: Faye Ainscow, Tony Brown, Raj Bhalla (2/6)
15: Stephen Gaukrodger (1/6)
15 players participated.