Mures wins May Blitz
Thursday 7 May, 2009
May's Hendon Blitz Tournament was won by Hendon's top board Cristian Mures, with a 100% score, 1½ points clear of the field. Bogdan-Liviu Stefan again took 2nd place, with Petr Limonov and Michael Bennett both taking home prizes for 'Hendon's top player'.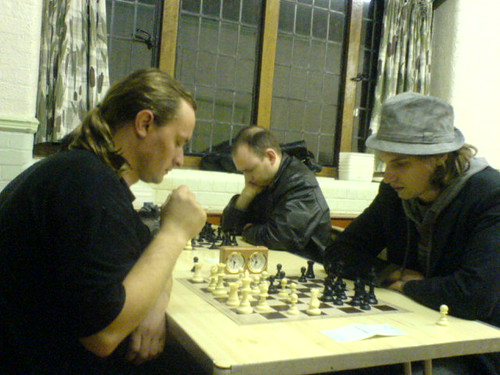 Hendon club members again took many of the top places in May's Blitz Tournament.
Cristian Mures took first place with a 100% score, a full 1½ points clear of Bogdan-Liviu Stefan, who came 2nd. Petr Limonov (pictured in the hat, playing Cristian) and Michael Bennett followed closely, both taking home prizes for 'Hendon's best player'. Ex-Hendon member Shane McCabe also tied for 3rd place.
A special mention also for first-timers Mina Thompson and Stephen Gaukrodger, both of whom were new to tournament play. Welcome to the club, and thank you for coming along!
Top standings:
1: Cristian Mures (6/6) Prize: £20
2: Bogdan-Liviu Stefan (4½/6) Prize: £10
3-5: Petr Limonov, Michael Bennett, Shane McCabe (4/6) Prize: £5 each to Petr and Michael for highest Hendon player
6-9: Tony Brown, Jonathan Landau, Frank Sabin, David Iwi (3½/6)
10-13: Chris Jones, Francis Katumwa, Salvatore Pepe, Faye Ainscow (3/6)
14-15: Ivan Valigurskyy, Ray Pliskin (2½/6)
16-17: Raj Bhalla, Kishan Pattni (2/6)
18-19: Graeme Lennard, Mina Thompson (1/6)
20: Stephen Gaukrodger (½/6)
20 players participated.