Ellis tops April Blitz
Thursday 2 April, 2009
April's Hendon Blitz Tournament was won by Hendon's Daniel Ellis with a 100% score, a point clear of the field. New Hendon member Bogdan-Liviu Stefan (pictured) took 2nd place, with Cristian Mures, Frank Sabin and David Iwi all taking home prizes for 'Hendon's top player'.
---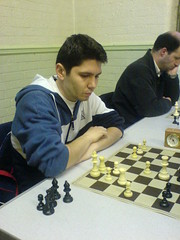 Hendon club members took many of the top places in April's Blitz Tournament.
Daniel Ellis came 1st with a 100% score and newly joined member Bogdan-Liviu Stefan (pictured) from Romania came 2nd, followed closely by David Iwi, Frank Sabin and Cristian Mures, who all took home prizes for 'Hendon's best player'.
Daniel's other recent achievements include winning the Major section in February's Golders Green rapidplay and having one of his games featured in Geoff Chandler's off-beat column Chandler Cornered ("a mixture of instructive and exciting chess, interesting news and comment, and the occasional piece of inventive chess satire!")
Top standings:
1: Daniel Ellis (6/6) Prize: £20
2: Bogdan-Liviu Stefan (5/6) Prize: £10
3-7: Frank Sabin, David Iwi, Cristian Mures, Vincent Sagues, Steven Coles (4/6) Prize: £5 each to Frank, David and Cristian for highest Hendon players
8-9: Steven Ghoussain, Shane McCabe (3½/6)
10-15: Michael Bennett, Ivan Valigurskyy, Nick Murphy, Tony Brown, Raj Bhalla, Kishan Pattni (3/6)
16-17: Jonathan Landau, Faye Ainscow (2½/6)
18-22: Ivan Kiskin, Mirza Fehimovic, Liviu Enciu, Ray Pliskin, Graeme Lennard (2/6)
23: Yosuke Kaneko (1½/6)
24: Tony Hulstrom (0/6)
24 players participated.