GM Cherniaev visits Blitz
Thursday 4 December, 2008
December's 'First Thursday' Hendon Blitz Tournament had the honour of a visit from Russian GM Alexander Cherniaev (right – playing Chris Jones), who won the tournament with a 100% score. Steven Coles from Kings Head took 2nd place. Hendon's top player was Cristian Mures, who took a clear 3rd place.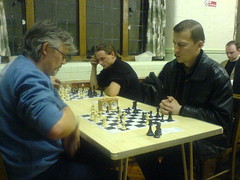 Top standings:
1: GM Alexander Cherniaev (6/6) Prize: £20
2: Steven Coles (4½/6)
3: Cristian Mures (4/6) Prize: £5 for highest Hendon player
4-7: Michael Bennett, Albert Ballardini, Shane McCabe, Chris Jones (3½/6)
8-11: David Iwi, Genga Somupillai, Liviu Enciu, Graeme Lennard (3/6)
12-14: Petr Limonov, Frank Sabin, Faye Ainscow (2/6)
15-16: Ray Pliskin, Edwin Landau (1/6)
16 players participated.